Vehicle Donations for the GHRoW Foundation
Consider donating your unwanted vehicle
to the GHRoW Foundation.
Now you can donate your vehicle to the GHRoW Foundation through V-DAC, a vehicle donation service. Visit the GHRoW Vehicle Donation page where you can donate your vehicle online. You may also simply phone V-Dac at 877.999.8322 and they will help you make all the arrangements to donate your vehicle to GHRoW.
Facts About Vehicle Donation
You don't have to do anything except provide information about your vehicle. Once you mail in your paper work V-DAC will call and arrange to pick up your vehicle within a week. The GHRoW Foundation will receive the funds from your vehicle within eight weeks.
Donating Your Vehicle is Tax Deductible
You are entitled to an itemized tax deduction for the sales price of your vehicle. Once the vehicle is sold at an auto auction or to a recycler you will receive a report and a tax receipt for use in filing your tax return. If the vehicle sells for less than $500 you are entitled to a deduction for the fair market value (not just the selling price).
A Donation Can Be Worth More Than a Trade-In
Before you trade in your vehicle, compare the trade-in offer to the value of your tax deduction. Consider, too, that the net proceeds will benefit GHRoW and the worthy students at Shenandoah Valley Academy.
Donate Almost Any Type of Vehicle
Cars, trucks, boats, airplanes – any type of vehicle can be donated. There are different appraisal rules for different vehicles so review IRS publication 526 and consult your tax advisor.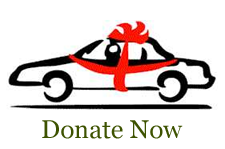 Questions About Giving?
If you have any questions regarding donations, please contact us by email at . Our Privacy Policy is here.